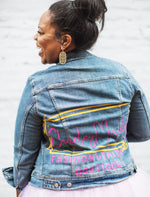 About Us & What We are Currently Loving
Hello Friends, Welcome to Our Space, Your Space! 
 I am so grateful for you and that you took the time to check out CharleyMadelyn, I actually can't believe that I am writing a blog post for CharleyMadelyn. I am familiar with writing blog posts for my own blog, however I have dreamed of owning my own boutique for so long so the fact that I am writing for CharleyMadelyn is blowing my mind ya'll. 
If you haven't followed us on Instagram, we just launched our boutique on June 11th, and we are so excited. CharleyMadelyn is a Faith and Fashion boutique where you can find the latest women's trends as well as faith based items such as coffee mugs, devotional books, and journals! Our why is to empower women through faith and fashion.
 So what have we been up to since our launch? To celebrate the week of our launch, we partnered with a few amazing women-based business entrepreneurs such as Trellis Beauty and Epp and Co. We gave a lucky winner a swag bag that consisted of a $25 giftcard to Epp and Co; $50 giftcard to CharleyMadelyn and a Beauty Steam at Trellis Beauty!. I am so honored to be a part of this women business entrepreneurship.
 In light of our recent opening, I wanted to share with a you our why and a  few of our absolute faves/best sellers.
 To learn more about CharleyMadelyn, I encourage you to read our bio, but in sum CharleyMadelyn was created to empower women through faith and fashion. We believe that walking in confidence through faith and fashion will allow you to handle any season of your life.
Our Current Faves: 
 We are loving our Natalie Leopard Print Maxi Dress it is perfect for the long list of  errands, following behind little ones, or just wanting to look cute but not put too much effort into it, not to mention it's animal print- which is a win in our book!
We are having major Jumpsuit Fever with our Everlasting Wide Leg Jumpsuit and our Eliza Jumpsuit! This would be perfect for date nights, weddings, or even beach trips!
Another one of favorites is our "My Quiet Time Devotional", because if you are a women on the move (and we know you are) quiet time is rare. That's one of the reasons we love this devotional because it allows you the time to either unwind from the day or get energized for your day.